At the top of the map pages, we list the types of listings covered, indicating the color of balloon used to show their locations. Common lisitng types include temporary furnished rentals, extended stay/apartment hotels, suite hotels, and resorts.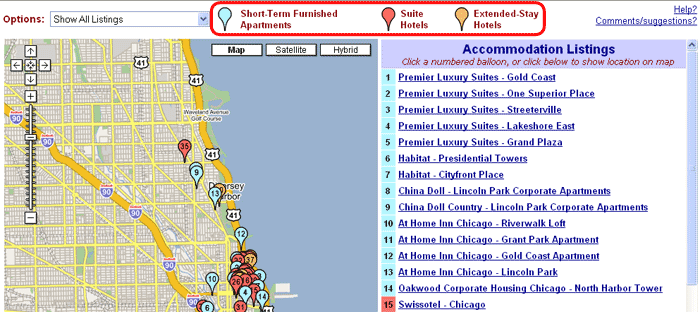 At the top left is an "Options" menu that allows you to filter the results to show any one listing type. All other listings will be removed from the list at the right, and their balloons will no longer appear on the map. To restore the original map, just select "Show All Listings" from the Options menu.

Getting Listing Information
Click on any numbered balloon, and an info bubble appears above it. Click "More info ..." to visit the listing's website. (Here, you can check availability for your travel dates and make reservations.) To close the bubble, click the boxed "x" or click on another balloon.

Click a listing on the right, and its info bubble appears above the listing's balloon on the map.